JPMorgan Chase & Co. Corporate Responsibility - Quarterly Update

This quarterly Corporate Responsibility newsletter highlights the ways JPMorgan Chase is using its expertise, data, resources and scale to open new pathways to economic opportunity and drive inclusive growth in communities around the globe.
JPMorgan Chase Launches AdvancingCities, a New Initiative to Create Opportunity in Communities
In September, JPMorgan Chase launched AdvancingCities, a $500 million, five-year commitment to invest in solutions that bolster the economies of the world's cities and lift the people and communities within them.
Earlier this month - marking our firm's 150th anniversary in France - we announced our first AdvancingCities investment, $30 million over five years to drive inclusive growth in Greater Paris.
Through AdvancingCities, we will extend our model for impact, which was developed and refined in Detroit, Chicago and Washington, D.C., and recognized by FORTUNE and Harvard Business School as a blueprint for driving inclusive growth in cities.
In Conversation: Making Workforce Development Work Better, Business and Labor Perspectives
We asked Wes Bush, Chairman and CEO of Northrup Grumman Corporation, and Lee Saunders, President of the American Federation of State, County and Municipal Employees (AFSCME), how the workforce training system can better expand opportunity for U.S. workers and increase economic competitiveness.
FORTUNE Names JPMorgan Chase on "Change the World" List
For the second year in a row, FORTUNE Magazine recognized JPMorgan Chase as one of the top companies changing the world. This year, FORTUNE highlights the firm's innovative approach to driving inclusive growth by combining community philanthropic investments with the opening of Chase branches to create more widely shared prosperity.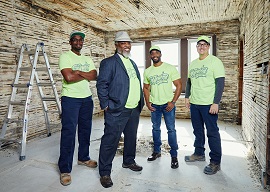 JPMorgan Chase Expands Entrepreneurs of Color Fund to Chicago
JPMorgan Chase expanded the Entrepreneurs of Color Fund to support minority entrepreneurs in Chicago's South and West sides. Chicago makes the fourth city in which we have expanded this high-impact model to help provide underserved entrepreneurs with access to capital they need to grow, create jobs and drive inclusive growth.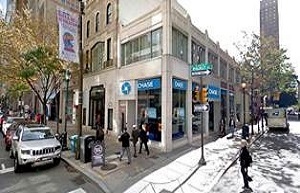 Betting on the City of Brotherly Love
Late September, JPMorgan Chase announced an expansion of its branch network to Philadelphia and the Delaware Valley and made several new commitments that support economic growth and workforce development in the region. This expansion is part of the firm's recent $20 billion, five-year investment in its business and local economic growth.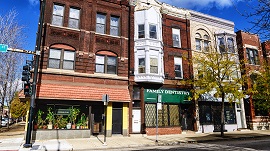 Four Lessons from JPMorgan Chase's $40 Million Investment in Chicago
Marking our one-year commitment to expand access to opportunity in Chicago's South and West sides, we partnered with the Rebuild Foundation to drive inclusive growth by providing local artisans and small business owners with training and workspaces. Here are four lessons we have learned and ways our efforts are starting to make an impact.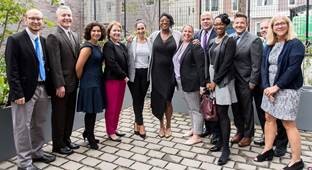 JPMorgan Chase Announces PRO Neighborhood Winners
JPMorgan Chase, through the PRO Neighborhoods (Partnerships for Raising Opportunity in Neighborhoods) Competition, committed more than $14.5 million to four CDFI Collaboratives working to advance inclusive growth in Fresno, Milwaukee, New Orleans and Philadelphia. These Collaboratives are implementing neighborhood development plans to tackle some of the biggest challenges in neighborhoods often overlooked.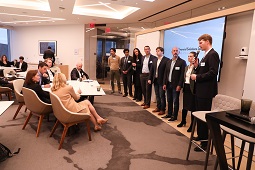 FinLab Launches Year-Five Competition to Support Workplace Financial Health Tech Solutions
Last month, the Financial Solutions Lab (FinLab) launched its fifth annual challenge focused on identifying employee financial health solutions that cater to the needs of the diverse American workforce, with a focus on underserved workers. Winners will be announced in January 2019.
Earlier this year, the firm expanded the FinLab model internationally to create the Financial Inclusion Lab in India, which aims to scale early-state fintech start-ups focused on helping people in the lower and middle-income segment.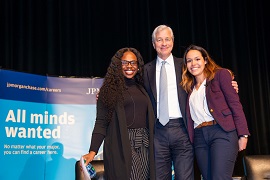 Building the Talent Pipeline in Columbus, OH
Marking the 150th year of doing business in the central Ohio Region, JPMorgan Chase reiterated its commitment to Columbus State Community College and Ohio State University and hiring talented graduates. This includes a new $2.5 million effort supporting Ohio State University scholarships for academic excellence for students from diverse backgrounds.
If you received this email from a friend, subscribe now to receive future newsletters.
To unsubscribe, email us with UNSUBSCRIBE in the subject line.
© JPMorgan Chase & Co.
270 Park Avenue, New York, New York
Corporate Responsibility