Self-Help Blog update: A New Charlotte Branch, Testimony in D.C. and More: Our Latest News
Updates from the Self-Help Shares blog
We are happy to announce that Self-Help Credit Union has opened a branch in Charlotte, North Carolina, allowing us to continue work we've already started in NC's largest city. The new Charlotte branch will be staffed by employees who previously worked in our nearby Pineville branch, which we recently closed. They will be joined by our team of home lending experts, who have already been working in Charlotte and who know the market well.
Our commitment to the Charlotte area is strong. We are excited about having an expanded presence in this community, bringing fair and affordable financial services and expanding economic opportunities.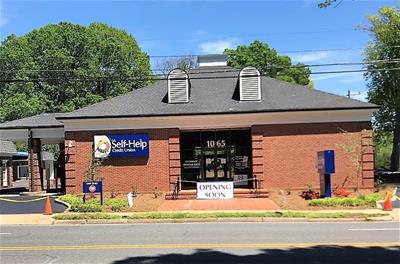 The new Charlotte branch, located at 1065 Providence Road, opened on April 30.
CRL Testifies Against Payday ...
Read more »
---
Recent Articles:
Our 2018 Annual Report: Stories of Faith, Growth & Impact
ABC Center Ushers in Entrepreneurs and New Services in East Durham
Scholarships, a New Charlotte Branch and Boosting Kids' Nutrition
We're Not Immune to March Madness
A Grand Opening in Apopka: "It's Time to Dance"