Investing in Opportunity Quarterly Update

This quarterly Corporate Responsibility newsletter highlights how JPMorgan Chase is using our expertise, data, resources and scale to open new pathways to economic opportunity and drive inclusive growth in communities around the globe.
2018 Corporate Responsibility Report: Return on Community
We are applying the capabilities and resources that have made us successful as a business to generate what we call 'Return on Community.'
We are making strategic, long-term investments to lift those who are being left behind. Explore our annual Corporate Responsibility Report to learn more about our efforts to drive inclusive growth in communities around the world.
Jamie Dimon Releases JPMorgan Chase's Annual Letter
As part of our 2018 Annual Report, JPMorgan Chase Chairman and CEO Jamie Dimon released his annual letter to shareholders discussing the company's performance and his views on capitalism as a force for good.
"When everyone has a fair shot at participating in and sharing in the rewards of growth," Jamie Dimon said, "the economy will be stronger and our society will be better."
Preparing for the Future of Work
In March, we announced a $350 million, five-year global initiative to prepare for the future of work and to meet the growing demand for skilled workers.
This commitment builds on our initial five-year workforce program and focuses on creating economic mobility and career pathways for underserved populations, as well as building a future-ready workforce at our firm.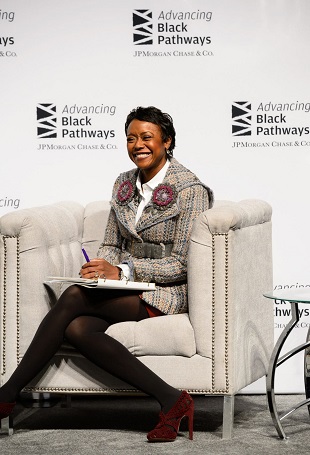 Expanding Economic Opportunity for Black Americans
In February, we announced the launch of Advancing Black Pathways, an effort which leverages resources across the firm to help more black Americans achieve economic success.
"As leaders in business as well as the broader community, we know we have a responsibility to society," said Mellody Hobson and Jamie Dimon in a joint opinion article, "Not to mention, as financial services executives, we can help foster widespread prosperity."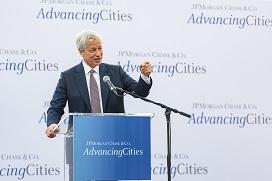 AdvancingCities Challenge Winners Receive $15 Million to Address Persistent Issues
As part of our $500 million, five-year initiative to invest in solutions that bolster the long-term vitality of the world's cities, we recently announced the five winners of the inaugural AdvancingCities Challenge, an annual competition to source innovative and sustainable solutions. The winning cities — Chicago, Louisville, Miami, San Diego and Syracuse — will each receive $3 million over the course of three years to address the most persistent challenges facing their communities.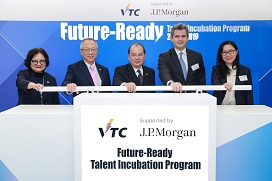 Expanding Opportunity for Hong Kong Students Pursuing STEM Careers
We committed $1.5 million over three years to the Hong Kong Vocational Training Council (VTC) to establish the Future-ready Talent Incubation Program. The Program will help nearly 600 VTC students pursue STEM-related careers through a combination of skills training and career planning experiences.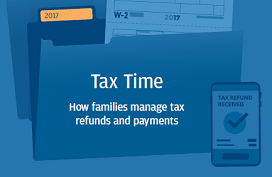 The Role Tax Refunds Play for the Average American Family
The JPMorgan Chase Institute released a new study documenting how tax refunds and tax payments affect families' income, saving and spending. The Institute found that tax refunds are a major financial event – often amounting to six weeks of take-home pay for an average family – that resets the spending patterns of families who receive them. In fact, just six months after receiving a refund, the average family's spending levels have settled to a new steady-state.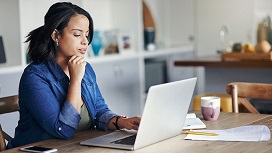 Investing in Fintech Solutions to Promote Financial Health Globally
In May, we committed $125 million over five years to nonprofit groups in the United States and around the world to improve the financial health of underserved communities. Through collaboration with community organizations, this commitment will also help inform the development of products and services that will help those in underserved communities increase their savings, build credit, reduce debt and achieve their financial goals.
Employee Focuses on Breaking the Cycle of Poverty in Paris
"I was no different than these students when I was their age," Schools Challenge mentor and J.P. Morgan employee Samia Barni said, "It's incredibly special to be a bridge for them." Our Schools Challenge expands educational opportunities for students in underserved communities by pairing them with mentors from across our business.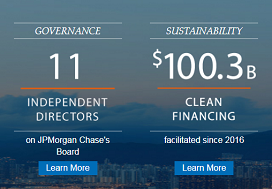 Environmental, Social and Governance Report Underlines Commitment to Accountability
We released our annual Environmental, Social and Governance (ESG) Report outlining the policies and principles that govern our business and reflect our commitment to sustainable growth. Explore the ESG Report for more information on how we are addressing some of the matters that we view as integral to our business.
If you received this email from a friend, subscribe now to receive future newsletters.
To unsubscribe, email us with UNSUBSCRIBE in the subject line.
© JPMorgan Chase & Co.
383 Madison Avenue, New York, New York
Corporate Responsibility